Earning a Master's degree in Nutrition is a substantial step towards becoming a Registered Dietitian, or furthering one's marketable skills and familiarity with the dense discourse. Earning one the 15 Best Master's Degrees in Nutrition for 2020 can help begin your journey toward accomplishing your goals.
For today's society, people are starting to pay more attention to the choices they make in regards to their health. It is undeniable that food plays a critical role in disease prevention and treatment, and trained nutritionists and dietitians are the ones who can guide us towards making better health decisions. The United States Bureau of Labor and Statistics predicts that the growth of jobs as a Dietitian or Nutritionist will grow by a steep 15 percent from 2016-2026, a much faster rate than any other occupation growth in the U.S.
Most states in the U.S. require that to perform services that are reimbursable under current health laws, and nutritionists must be a Registered Dietitian. Preparation to become an RD may begin in a bachelor's program but pursuing a Master's degree in Nutrition will ensure preparedness for the exam, and dictate graduates as having extensive and desirable knowledge in the professional field. Many programs are taught interdisciplinary, meaning that students gain exposure to aspects of the field from many different lenses.
Ranking Methodology: "It's science!"
The researchers and writers at Best Masters Degrees don't make recommendations based upon preference– we back our rankings with science. Here's a quick breakdown of how we organize ranking data:
Finances (40%)

Academic Rigor (35%)

Student Gratification (25%)
Nearly half of the data used to score each ranking involves investments and are acquired from sources such as the National Center for Education Statistics, the U.S. Department of Labor, U.S. Department of Education, Glassdoor, and PayScale. Financial data encompasses the cost of tuition, fees, and class supplied; the average price of living; access to financial aid and social services; and lastly, the projected annual salary acquired from degree outcomes and income for loan repayment. The second largest category of information involves the quality of education, how competitive degree applicants should be for consideration, and how exclusive a degree program is overall. The final 25 percent of collected data is dependent on student and alumni reviews from sources such as PayScale, Rate My Professor, and Students Review.
Want to Learn More?
The amount of information available for specific degrees are plentiful, and Best Masters Degrees aims to provide as many resources as we can. Check out our Methodology page for more information and resource links.
#15 – University of Alabama Birmingham
Master of Science in Nutrition Sciences with Dietitian Education
Tuscaloosa, AL
The Master of Science in Nutrition Services, Dietitian Education Program consists of 58 credits and with 24 of them being practicum requirements. The DEP track, which is one of five offered tracks in the MS in Nutrition Services offered, is taught entirely online. That is not to be confused with the practicum requirements, which are completed in-person. The program is required to be completed full-time and in a specific sequence of study. Students will take courses such as Principles and Practice of Nutrition Support, Advanced Food System and Resource Management, Nutritional Biochemistry, and more. Courses take place each term, including summer.
Graduate Tuition/Fees:
$8,328 / $19,032
#14 – University of Wisconsin Colleges
Master of Science in Clinical Nutrition
Greater Wisconsin Area
The University of Wisconsin Colleges designed their program specifically for students who already have a strong background in clinical nutrition, and are ready and dedicated to working at the graduate level. Students will graduate prepared to translate research, respond to developments in the field, and lead professional teams in the formulation of nutrition-related services. The major is offered online, and online courses will be primarily on the internet but with the potential on-campus component. There are no solely in-person or hybrid classes available. The program is a minimum of 30 credits, and all graduates must have at least a 3.0 GPA to complete the program.
Graduate Tuition/Fees:
$5,172 / $12,743
#13 – University of Illinois at Chicago
Master of Science in Nutrition
Chicago, IL
The Master of Science in Nutrition from the University of Illinois at Chicago will teach students through the biological and physical sciences, whether students are already registered dietitians or are new to the immediate field. The program is focused on nutrition-related diseases and their prevention and treatment, whether it be physical or mental diseases, like diabetes or depression. Because of this widespread focus, students will be trained in an array of relevant subjects, like eating habits, psychology and food access, and more. The university offers a Coordinated program, which is designed for those who are having a career change and would like to enter freshly into the field. The traditional program is for already practicing dietitians, or those thinking about a Ph.D. program.
Graduate Tuition/Fees:
$13,704 / $26,560
#12 – University of Arizona
Master of Science in Nutritional Sciences
Tucson, AZ
University of Arizona's Master of Science in Nutritional Sciences offers two highly-esteemed research areas, which include Bioactive Compounds, Nutrients, and Lifestyle and Behavior Factors Influencing Body Composition. There are also other research programs, including research in diabetes, obesity, immunity, and others. The faculty members apply interdisciplinary experience, from the College of Medicine, College of Nursing, College of Public Health, and more. Twenty-seven faculty members are available for students to select for mentorship. Students may graduate the program and continue onto Ph.D. studies at UA or elsewhere, or join the professional field as trained nutritionists or dietitians.
Graduate Tuition/Fees:
$11,877 / $35,307
#11 – Michigan State University
Master of Science in Human Nutrition
East Lansing, MI
The Master of Science in Human Nutrition from Michigan State University is a minimum 30-credit program, with an emphasis on research, statistics, seminars, advanced nutrition, and other topics based on the student's desired route of practice. Other topics may include biochemistry, physiology, psychology, and sociology. Applicants must have completed a bachelor's degree not necessarily having majored in the field, but with a history of relevant coursework. They should also have at least a 3.0 prior GPA. The program may be completed with a research thesis or without, and those who opt out will complete a Master's Project instead.
Graduate Tuition/Fees:
$14,460 / $39,406
#10 – University of Connecticut
Master of Science in Nutritional Sciences
Storrs, CT

Students who pursue a Master of Science in Nutritional Sciences from the University of Connecticut will have the option of emphasizing their degree in Biochemical and Molecular Nutrition, Human Nutrition and Metabolism, or Community Nutrition. Each emphasis area is taught interdisciplinarily with the academic support from other departments at UC, such as the Department of Molecular and Cell Biology. Applicants must have taken General Chemistry, Organic Chemistry, Biochemistry, Physiology, Biology, and Basic Nutrition, as well as submit GRE scores. The thesis-track in the degree is designed for the majority of students in the program, while those students who already have practical experience in the field can opt out of the thesis track and instead prepare a review paper and present it orally to the Department.
Graduate Tuition/Fees:
$14,880 / $36,948
#9 – Rutgers University
Master of Science in Nutritional Sciences
New Brunswick, NJ
The Master of Science in Nutritional Sciences offered by Rutgers University gives students the choice of three focuses, which include nutritional biochemistry & physiology, community & applied nutrition, and dietetics. Each focus is designed for different students; Ph.D. candidates, those preparing for careers in nutrition education, and those who seek Registered Dietitian Nutrition Credential. Applicants must have at least one-year course history in a General Chemistry with lab, one-year organic chemistry, and have earned 12 other credits in upper-level sciences. The 30-credit program is designed to take two years. There are three core courses that all students will take regardless of the focus area, but the remainder of their course load will depend on the focus they pursue.
Graduate Tuition/Fees:
$14,638 / $30,579
#8 – University of Washington
Master of Science in Nutritional Sciences with Dietetics
Seattle, WA
The Master of Science in Nutritional Sciences with the Graduate Coordinated Program in Dietetics offered by the University of Washington is a 62-credit program that also requires 30 internship credits. Typical completion time around two, including summer quarters. To earn the degree, students will also have to complete a research thesis and pass the national Registered Dietitian exam. Students who do not wish to pursue RD training can receive the degree nonetheless, but all prospective students must have a bachelor's degree and completed courses in Nutrition, General and Organic Chemistry, Biochemistry, and Physiology. Students pursuing the GCPD program have extra prerequisites to complete before applying to UW.
Graduate Tuition/Fees:
$10,974 / $35,538
#7 – North Carolina State University
Master of Science in Nutrition
Raleigh, NC
The Master of Science in Nutrition with the thesis option offered by North Carolina State University is designed for students who are looking to gain research experience in the field. Most graduates of the program go onto professional careers in research positions or continue their education in pursuit of a Ph.D. program. The program has interdisciplinary support from within the university, holding relationships with the Department of Food, Bioprocessing & Nutrition Sciences, Department of Animal Science, and more. Students who enroll in the program will decide on a department to be officially homed in and select a faculty adviser from that same department. This gives flexibility to every student in choosing their area of focus and research. Applicants should have an undergraduate GPA of at least 3.0, score in at least the 30th percentile on the GRE and hold a BS degree in a relative field with coursework in biology and organic chemistry.
Graduate Tuition/Fees:
$9,058 / $27,406
#6 – University of Minnesota – Twin Cities
Master of Science in Nutrition
Minneapolis, MN
Students in the Master of Science in Nutrition program offered by the University of Minnesota will complete at least 30 credits and pursue either a thesis, additional graduate work, or an independent study. The core nutrition courses include topics such as Vitamin and Mineral Biochemistry, and Nutrition and Genetics. Other credits in the degree will be made up of courses taken outside of the major yet still related, such as statistics. To earn the degree, students should have maintained a GPA of at least 2.8. The thesis consists of an original research project with a report. Those who opt out of the thesis will take additional coursework, Independent Study courses, and complete a particular project.
Graduate Tuition/Fees:
$14,417 / $26,603
#5 – Cornell University
Master of Science in Nutritional Science
Ithaca, NY
Cornell's Master of Science in Nutritional Science program takes an interdisciplinary approach to the discourse, offering four different program tracks: Dietetics, Human Nutrition Evidence for Policy Making, Global Food Systems for Health, and any other "Individualized" track if a student may want to structure one themselves. The university is home to the largest faculty in the United States dedicated to human nutrition, with specializations and expertise in biochemical, metabolic, epidemiological, and sociocultural research. The program is about 30 credits total, with a recommendation of taking 15 credits per semester for four semesters. The different program tracks are reasonable grounds to describe the many career opportunities post-graduation. Students have gone onto work within academia, government, not-for-profits, and global organizations.
Graduate Tuition/Fees:
$52,853
#4 – The Ohio State University
Master of Science in Human Nutrition
Columbus, OH
The research-centered Master of Science in Human Nutrition offered by Ohio State University readies students for both doctoral education or professional careers in the field post-graduation. Students will engage in topics such as dietary intake and disease, human nutritional status and interventions, micronutrient levels, bioactive dietary compounds, food security, and more. The program is a minimum of 30 credits, with five core courses, one research methods courses, field-related electives, and a thesis. Supporting elective courses include topics like Medical Anthropology, Advanced Micronutrient Metabolism, DNA Transactions and Gene Regulation, and Fundamentals of Oncology. The research thesis will be completed with support from a chosen faculty advisor.
Graduate Tuition/Fees:
$10,592 / $29,696
#3 – Purdue University
Master of Science from the Interdepartmental Nutrition Program
West Lafayette, IN

Purdue University's Nutrition Science-based program is especially interdisciplinary, with the offered degrees being housed under the College of Health and Human Sciences' Interdepartmental Nutrition Program. Students admitted to the program to pursue their Master of Science degree will choose an emphasis area from the offered four: Biochemical and Molecular Nutrition, Human and Clinical Nutrition, Animal Health, Growth and Development, and Public Health and Education. Faculty in the program are from ten different departments amongst Purdue and other universities in Indiana. Students will select a faculty member for mentorship in the INP, and the degree earned will be awarded from the professor's' home department. On the earned degree, it will show the Interdepartmental Nutrition Program as the specialization area.
Graduate Tuition/Fees:
$9,992 / $28,794
#2 – Texas A&M University
Master of Science in Nutrition
College Station, TX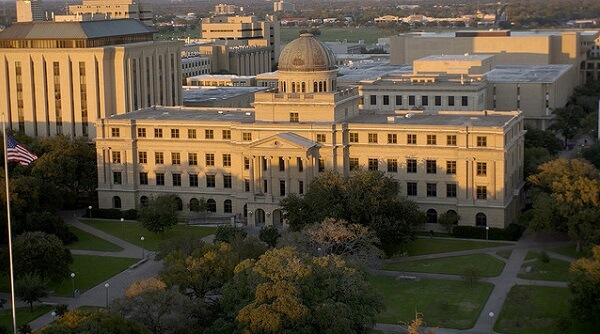 The Master of Science in Nutrition is a 32-credit program at Texas A&M University's College Station campus. Alongside core courses in Nutrition, Biochemistry, Physiology, and Statistics, students will complete a thesis. Applicants should have earned at least a 3.0 on their most recent degree and a combined score of at least 300 on the GRE. Graduates may go onto professional careers, or continue in the university's doctoral program in Nutrition. Texas A&M also offers a Dual Masters in both Kinesiology and Nutrition, designed for students who wish to pursue work in sport or clinical industries.
Graduate Tuition/Fees:
$11,234 / $36,606
#1 – University of Illinois at Urbana – Champaign
Master of Science in Nutritional Science
Champaign, IL
The Master of Science in Nutritional Science offered by the University of Illinois requires core courses in the discourse, but additional credits taken in human and animal nutrition, biochemistry, food science, anthropology, agricultural economics, and more. This speaks to the interdisciplinary nature of the program, as the faculty represents 15 different departments from seven different colleges in the area. Applicants must have at least a 3.0 GPA from their last two years of coursework, have taken courses in chemistry, biology, and mathematics, and submit a GRE score. Admissions take place in the fall, spring, and summer. The program offers a thesis and non-thesis track, but students are not directly admitted to the non-thesis track.
Graduate Tuition/Fees:
$15,074 / $31,194