Become an academic expert in the field of economics with one of the 15 Best Online Master's Degrees in Economics for 2020. Earning a Master's in Economics promises long-term success and stability in today's global economy through learning the ever-necessary skills of quantitative analysis, market forecast and analysis, and consumer behavior.
Most economists enter the field having earned at least a Master's degree, according to the U.S. Bureau of Labor. Payscale also found how the average salary of an economist is $73,669, with increases of three to ten percent for candidates with various advanced skills. Graduates can expect job offers as economists in all sectors of the field, from government jobs at the U.S. Bureau of Labor Statistics, to private companies, to nonprofits like the Research Triangle Institute. Of course, a career as an economist is not the only options. Some go onto careers as market researches, analysts, or statisticians.
Completing a Master's program in Economics that furthers entry-level skills learned in a baccalaureate degree will undoubtedly boost one's expected salary and career outlook. For students with prior field experience, returning to school for the degree is accessible and flexible thanks to all of the online programs. Many programs also offer interdisciplinary tracks, making economics a reasonable course of study for students who may pursue careers or higher education in political science, finance, or international studies.
Ranking Methodology: "It's science!"
The researchers and writers at Best Master's Degrees don't make recommendations based upon preference– we back our rankings with science. Here's a quick breakdown of how we organize ranking data:
Finances (40%)

Academic Rigor (35%)

Student Gratification (25%)
Nearly half of the data used to score each ranking involves investments and are acquired from sources such as the National Center for Education Statistics, the U.S. Department of Labor, U.S. Department of Education, Glassdoor, and PayScale. Financial data encompasses the cost of tuition, fees, and class supplied; the average price of living; access to financial aid and social services; and lastly, the projected annual salary acquired from degree outcomes and income for loan repayment. The second largest category of information involves the quality of education, how competitive degree applicants should be for consideration, and how exclusive a degree program is overall. The final 25 percent of collected data is dependent on student and alumni reviews from sources such as PayScale, Rate My Professor, and Students Review.
Want to Learn More?
The amount of information available for specific degrees are plentiful and Best Master's Degrees aims to provide as many resources as we can. Check out our Methodology page for more information and resource links.
#15 – Regent University
Master of Business Administration – Economics
Virginia Beach, VA
Regent University's Master of Business Administration in Economics degree is a 42-credit program that can be completed entirely online, on-campus, or in a hybrid format. Graduates will be prepared for competitive career opportunities with skills in integrating legal and ethical considerations, leading teams in public and private sectors, and analyzing trade policies and financial issues. As Regent is a proud and committed Christian university, students will have a Christ-centered education that combines scriptural examples and modern-day business practices. The program is highly customizable in how it allows students the choice between elective concentrations or individualized plans. Course project assignments are also meant to give students portfolio-quality material useful for job opportunities after graduation.
Graduate Tuition/Fees: $12,726
#14 – Eastern University
Master of Business Administration – Social Impact
Philadelphia, PA
Eastern University's Master of Business Administration in Social Impact was designed with working students in mind: the 36-credit program is meant to be completed in two years by those students who are balancing school and work. The degree in Social Impact teaches students how to confront societal challenges with tools traditionally reserved for business innovation. This interdisciplinary way of thinking through solutions will make graduates a competitive candidate for careers in entrepreneurship, corporate citizenship, non-profits, the government, and philanthropic and impact fields. Courses are taken online but do require one, four-day residency per semester. The program is evolved from the MBA in Economic Development at Eastern, which bears 30 years in legacy and alumni in over 70 countries.
Graduate Tuition/Fees: $16,560
#13 – The Chicago School of Professional Psychology at Chicago
Masters in Behavioral Economics
Chicago, IL
The Masters in Behavioral Economics at The Chicago School of Professional Psychology is a fully online program that takes two full-time years to complete. CSPP designed its MBE to provide students with a foundation in psychology that readies them for business analysis of topics such as human decision-making, negotiation, marketing, and consumer behavior. Course topics include neuropsychology, neuromarketing techniques, consumer motivation, and more. Before graduation students complete a capstone project in the form of a submitted journal article, written after conducting related fieldwork research. Applicants must have earned a bachelor's degree, and work experience in a relevant field prior to application is recommended.
Graduate Tuition/Fees: N/A
#12 – Mercer University
Master of Business Administration
Macon, GA
The average student at Mercer pursuing a Master of Business Administration is 28-years old and already has five years of work experience. To accommodate the busy lifestyles of student workers the program is dedicated to meeting their needs by offering an entirely online program. The program is a total of 36-45 credit hours and can be completed in short 18 months. Graduates have gone onto employment as market researchers, financial analysts, healthcare administrators, and account managers. Course topics include ethical leadership, business law and corporate responsibility, and marketing concepts. Students may also complete a specialization in either Marketing, Finance, Economics, General Business, Human Resources, or Healthcare Management.
Graduate Tuition/Fees: $14,370
#11 – Southern New Hampshire University
Master of Science in Applied Economics
Manchester, NH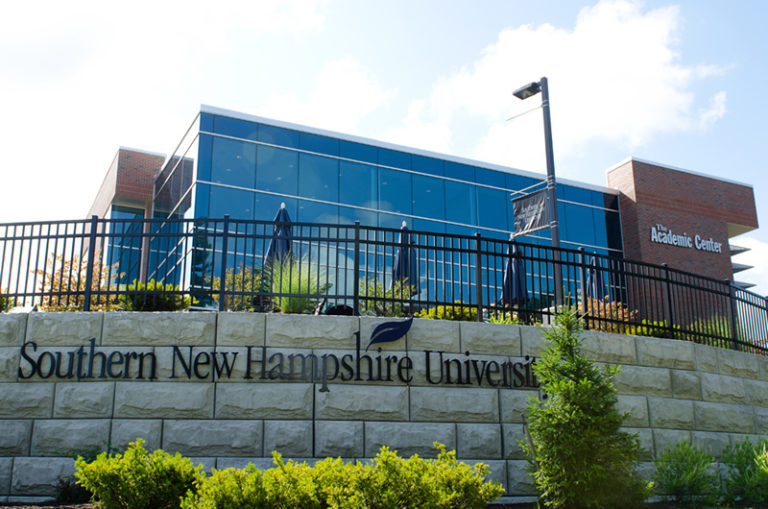 Southern New Hampshire University admits students to the Master of Science in Applied Economics at multiple term-start dates per year, so that students can complete the 36-credit program at their own pace. At the quickest, the degree can be earned in 15 months. Graduates will be qualified for work as economists in, both, private and public sectors. SNHU is committed to teaching students how to integrate economic theories into the analysis of real-world problems, execute reputable research using quantitative data analysis and econometrics, and more. Courses will focus on game theory, statistics and mathematics, econometrics, and require students to complete a capstone. Counselors are available to prospective students for guidance on the application process.
Graduate Tuition/Fees: $18,810
#10 – University of Missouri
Master of Arts in Economics
Columbia, MO
Recent graduates of the Master of Arts in Economics at the University of Missouri have gone on to become Data Scientists, Directors of Institutional Research, Energy Markets Managers, and Lecturers in Economics. The 30-credit program is usually completed in two years, with students taking one or two courses each semester. Classes are taken entirely online with no on-campus visits necessary. Required core courses include essential topics such as micro and macroeconomic theory, while electives have topics such as game theory, economic development, international trade, and global monetary systems. Applications do not require GRE scores, but a minimum GPA of 3.0 is expected to have been earned during the last 60 hours of undergraduate.
Graduate Tuition/Fees: $8,640 / $23,659
#9 – American University
Master of Arts in Economics
Washington, D.C.
American's Master of Arts in Economics is a total of 30 credits, with 10 eight-week courses. All students are expected to finish a capstone course to graduate. The program may be completed entirely online, or students can take up to 6 credits on campus. The faculty emphasizes policy and real-world issues in their teachings, preparing students to make impactful decisions about the local and global economy, provide analysis using mathematical skills and economic models, and to predict changes in economic indicators. Elective courses include Labor Economics, Public Economics, Financial Stability and Growth, and Survey of Economic Development. Students can graduate with a degree in 20 months, qualifying for competitive pay jobs.
Graduate Tuition/Fees: $29,556
#8 – University of Detroit Mercy
Master of Arts in Economics
Detroit, MI
By using a liberal arts foundation, the Master of Arts in Economics program at the University of Detroit Mercy provides students with not only an economics education but an understanding of the history and institutions that influence today's economy. The curriculum will give students an understanding of both the international and U.S. economy, and the moral and ethical issues that come up in economic concepts and realities. Applicants must have at least a baccalaureate or an advanced degree with a minimum 3.0 GPA. Core courses include Analysis of Economic Conditions and the Theory of International Trade, and electives must be in Economic courses or, upon department approval, another discipline relevant to the student's career plans.
Graduate Tuition/Fees: $28,422
#7 – Ohio University
Master of Accountancy
Athens, OH
The Master of Accountancy at Ohio University is provided entirely online and offers, both, an advanced track or a general track for students. The advanced track is meant for students who already have professional accounting experience, while the general is for business professionals looking to further their opportunities. If students are entering with a baccalaureate degree in business or economics, it is recommended they take the general track. Regardless of the track chosen, students will gain advanced knowledge in quantitative analysis, accounting technology, and data evaluation. Some may graduate in as little as five semesters. Students may begin the program in the fall, spring, or summer.
Graduate Tuition/Fees: $9,444 / $17,436
#6 — West Texas A&M University
Master of Science in Finance and Economics
Canyon, TX
The Master of Science in Finance and Economics at West Texas A&M has been consistently ranked as one of the best graduate business programs. The program consists of 36 credits and takes approximately two years to complete. Courses may be taken online or in hybrid-format, both, on campus and online. Applicants must have a minimum undergraduate GPA of 3.0, and if one's GPA meets that requirement, they don't need to submit a GMAT score. Many students enter with work experience in the field. Core courses include topics such as Theory of Households and Firms, Monetary and Fiscal Policy, Corporate Governance, and Quantitative Analysis.
Graduate Tuition/Fees: $4,496 / $5,185
#5 – Youngstown State University
Master of Arts in Financial Economics
Youngstown, OH
Available to students across the US and the world, Youngstown's Master of Arts in Financial Economics is a 33-credit program that may be completed in just six semesters. Applicants should be familiar with at least macroeconomics, microeconomics, statistics, or calculus. Upon graduation, students will have gained an impressive background in economic theory and financial market analysis. The different elective options also allow students interdisciplinary options, with course topics like international finance. Graduates will be prepared not online for the competitive financial services industry, but for a doctoral study in finance, economics, or other related fields. Core topics in the program include the History of Economic Thought, Urban and Regional Economics, and Health Policy.
Graduate Tuition/Fees: $8,752 / $13,252
#4 – Johns Hopkins University
Master of Science in Applied Economics
Baltimore, MD
Students interested in the online Master of Science in Applied Economics from Johns Hopkins University should be aware of state-specific information for online programs before applying. The ten-course program will further skills in economic reasoning through knowledge of econometrics and quantitative techniques. There are no requirements for one's undergraduate major prior to application. The program is made up of four core courses, at least one advanced econometrics course, and then five electives. Every student designs their course load to best fit their goals, with focus areas like Public Policy, Financial Economics, and the Macroeconomy, Spatial Economics, and more.
Graduate Tuition/Fees: $52,170
#3 – University of North Dakota
Master of Science in Applied Economics
Grand Forks, ND
The Master of Science in Applied Economics at the University of North Dakota takes approximately two years to complete, with 30 credits for those who do not pursue a thesis and 34 credits for those that do. Students will be readied for careers in economic research and consulting or forecasting both in the private and public sectors of the field. The program has been consistently highly ranked for educational quality, affordability, and career outcomes. Admitted students may begin in the fall, spring, or summer terms. To ensure flexibility, online courses may be attended live or streamed at a later date. Those who do not complete a thesis will pursue independent study.

Graduate Tuition/Fees: $7,688 / $20,526
#2 – Georgia Southern University
Master of Science in Applied Economics
Statesboro, GA
The online MS in Applied Economics at Georgia Southern University is designed for the advancement of analysis in economic development, financial economics, and regulatory issues. Students will develop or further skills in the market of quantitative analysis, regulatory industry analysis, monetary economics, and economic development. The program emphasizes a solid theoretical background in economics, to ensure once students are in the workforce they have advanced solutions for real-world issues. Applicants must have at least an undergraduate GPA of 3.0 and submit competitive GRE scores. They should have also completed courses in calculus, statistics, and intermediate-level macro and microeconomics having earned a "C" or better.
Graduate Tuition/Fees: $6,636 / $26,518
#1 – Purdue University
Master of Science in Economics
West Lafayette, IN
Purdue University's leading quantitative and empirical instructional methods has ensured that their online Master of Science in Economics program is consistently ranked highly for U.S. universities. Students will learn through econometrics, statistical software applications like Stata, Matlab, or Eviews, modern computational and programming tools, business forecasting, and more. Students can complete the program in 20-36 months depending on what works with their schedule. Courses may be taken entirely online or in a hybrid format. There are study tracks for students who will enter the workforce post-graduation or those who will continue education in economics and even other related degrees, like political science. Applicants should have taken either the GMAT or the GRE.
Graduate Tuition/Fees: $9,208/$28,010